Touch China with a Great Opening
On 2015-Oct-28
Last Wednesday on October 28th, International Student Office(ISO), together with Youth League BNU, kicks off our first year's Culture andArt Month with a great opening ceremony co-organized by Art Troupe and Student Association'sUn ion.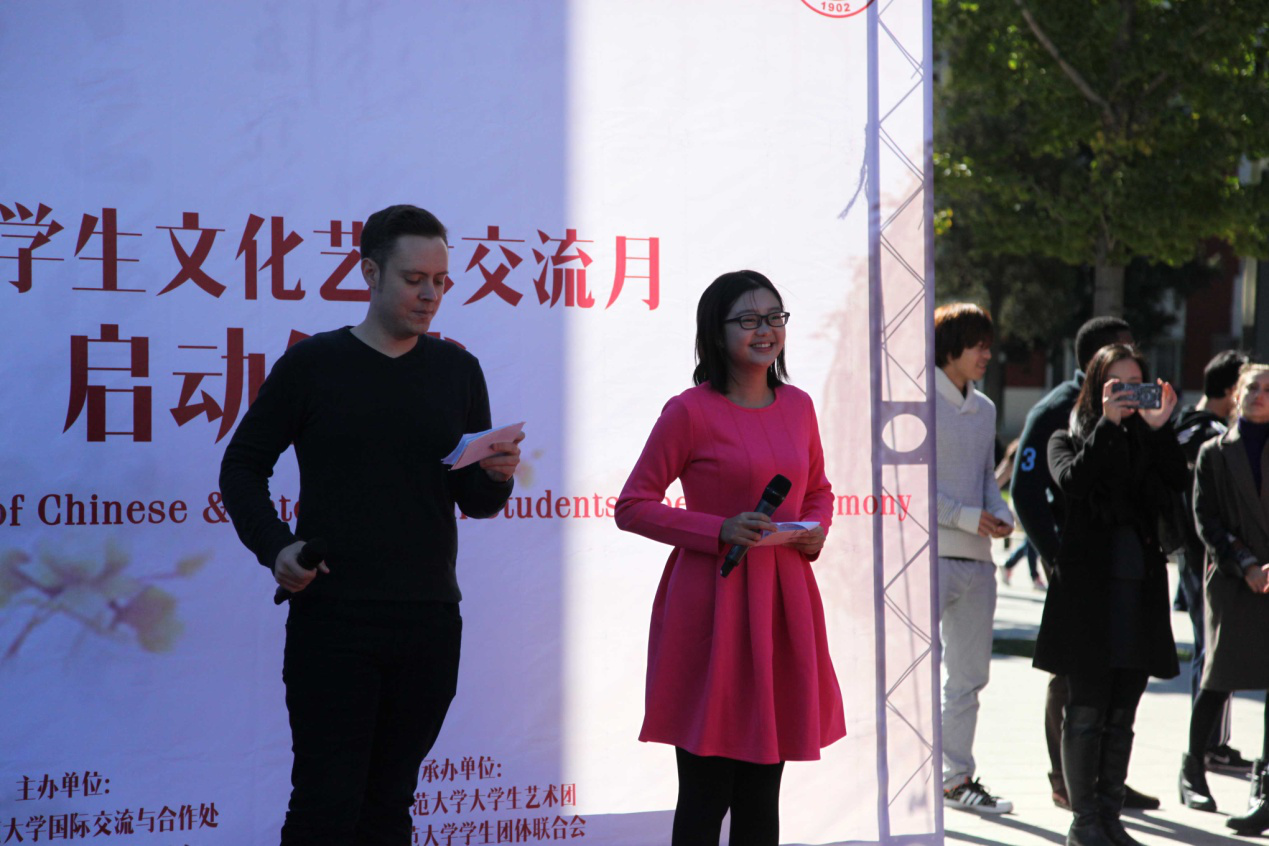 The ceremony starts at 12pm at Northern Qiujiduan GYM. The event isfree and open to all. Refreshments were provided as well. Seven studentsassociations, including Kongfu Club, Traditional Instruments Orchestra, EnglishClub, Dance Troupe, Calligraphy Club, Huazhang Han Costume Club and NanshanPoetry Club, give an amazing show and face-to-face communication opportunity tointernational &Chinese Students. Chinese Culture and Art themed performancesand experience attracted a good amount of international and Chinese students.
At its launch, two hosts warms up the crowd with fluent switch betweenEnglish and Chinese. Chief of International Exchange and Cooperation, Mrs.Wang Xiumei, gives a brief welcoming speech, addressing the importanceof providing this platform to boost communication between international andChinese students, as well as to promote Chinese Culture and Art in a welcoming,diverse and inclusive setting. She explained it in only three sentences, "Todayis a good day. The weather is kinda chilly but my heart feels warm. This is ourfirst event, but for sure will not be the last."
With the presence of directorsfrom ISO and Youth League BNU, Mrs. Wang Xiumei, Mrs. Ai Xin, Mr. Han Jian, andMr. Yu Xiaolei, the opening ceremony approaches to the most excitingmoment---Flying Balloons. Six student representatives are invited to the stageto cut off the strings attached to the balloons and thus launch the festivalwith colorful balloons flying up high in the sky.
Following-ups are the in-depth experiences andsignups to the courses and saloons arranged by different student associations. With a CulturePass in hand, students are free to join any clubs at any time that fits yourschedule. They seem very excited about this. One of the international studentssays:"I already signed up for three activities. I wish I had more time foranother Chinese accessory-making class." Not only international students areexcited about the upcoming events, some also Chinese students showed great passionabout this.
It's glad to see a wonderful start and active interactions amongststudents at the launch of Chinese Culture and Art Festival. Carry on the goodwork into the following Culture Month. Surely it will be a path to journey downChinese precious culture and art.