the 2017 World on Campus Beijing Normal University International Culture Festival
On 2017-May-27
The 2017 "World on Campus" Beijing Normal University International Culture Festival opens at Jingshi Square on May 21, 2017. This year's International Culture Festival, with the theme of "Culture Bond, Development Fusion", was organized by the International Exchange and Cooperation Office, the Undergraduate Work Office, the Graduate Work Office, the School Youth League and the Logistics Management Office. The Vice President of Beijing Normal University—Prof. Zhou Zuoyu attended the Culture Festival.
After the grand Flag parade ceremony, the Vice President—Prof. Zhou Zuoyu said: "The university, being the spread of human civilization, culture and education, will continue to raise International talents, in order to promote cultural exchanges, and fulfill the human peaceful development dream". The "World on Campus" Culture Festival is a cultural exchange platform for all Beijing Normal University students, this platform enables the exchange of national civilization, mutual understanding, mutual appreciation, and interactive development of a cultural atmosphere among different countries. It also welcomes more international students to join the warm and generous BNU family. Afterwards, the Vice President—Mr. Zhou Zuoyu, The President's Assistant—Zhang Qiang and other leaders and student representatives used the bright color sand which symbolize the Five continents to light the "WORLD ON CAMPUS" setup, thereby opening a colorful "World on campus" trip.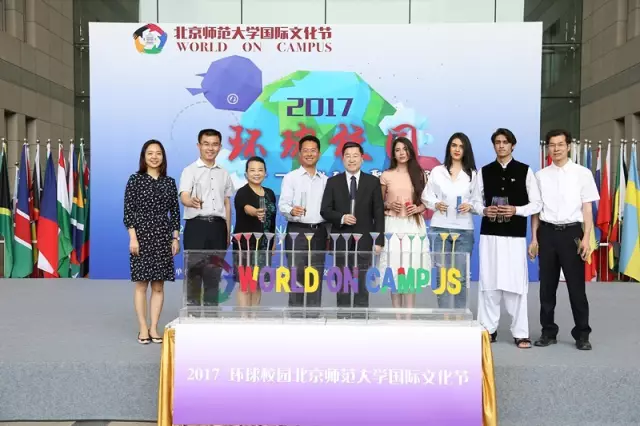 Nearly 1,600 students from 108 countries and regions of the world showed their customs and history in various ways: students from 30 different countries showed their national characteristics through cultural booths, while students from more than 50 countries presented wonderful literary and artistic performances. At the same time, the late stage management office catering center offered "food appreciation", exhibiting an exotic taste through the rich variety of food and drinks. "World on Campus" is a platform for students to experience world culture in Beijing Normal University. It is a platform for mutual exchange between China and the world. It helps to build a multi-interactive and flourishing campus cultural exchange.
For more photos, please click: http://mp.weixin.qq.com/s/3SdaMptCXCqlc1FZY7dBCA
International Exchange and Cooperation Office
May 21, 2017