The Confucius Institute Scholarship students experience the culture of Ming Dynasty
On 2015-May-13
Office of Confucius Institute and International Students Office of BNU held the cultural experience activity for Confucius Institute Scholarship students. 40 Confucius Institute Scholarship students visited The Ming Dynasty Tombs at Chang ping district, Beijing. The Ming Dynasty Tombs, a very important historical and cultural heritage of China, is the grandest integral palace complex still remaining in China. At the bright morning, international students started to visit The Ming Dynasty Tombs, felt the Autumn of Beijing and experienced the different Chinese culture.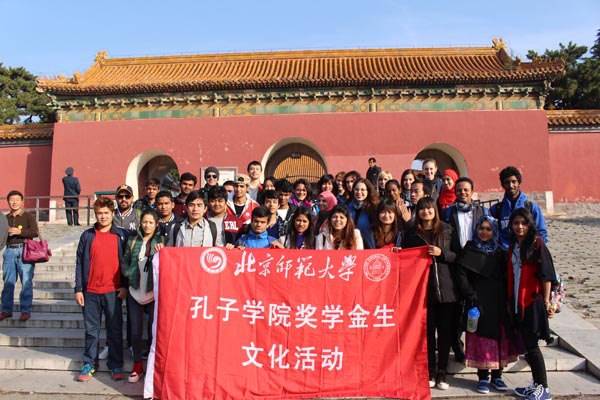 At 7:00 AM, the bus left the busy city and drove to the northern Beijing, went through the unique Seven-Span Bridge and many crooked lane, finally, arrived at The Ming Dynasty Tombs. With the interpretation of the tour guide and the company of BNU teachers, the students visited the Chang Tomb-the tomb of Mingchengzu, Zhu Di firstly.

Then Students visited the Ding Tomb. Along with the spiral stone stair, students stepped into the under palace of the Ding Tomb. There is a lead coffin of the empire and many cases with jewelry and treasure here. All the international students had a deep interests in the structure of the under palace and the staff here. This is a mysterious trip, all the students had the chance to know the sacrificial regulation of ancient Chinese.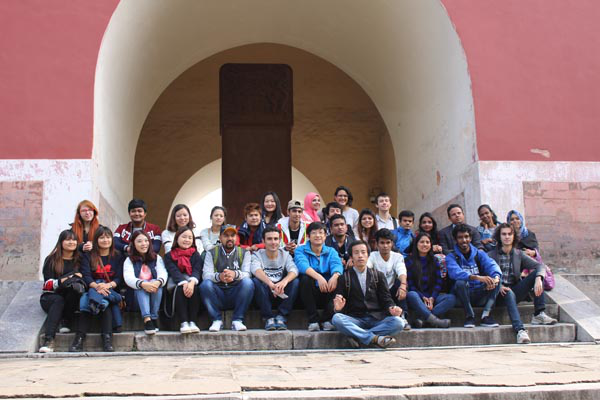 This cultural activity made students have a deeper understanding of Chinese culture and intensive the passion of students to learn Chinese and Chinese history. Students not only admired the mysterious and profound Chinese culture, but also gained the knowledge about sacrificial regulation of ancient China. The students will have more passion to learn Chinese and spread this passion to all over the world.