Registration
※Important Notice:
All international students are required register at ISO during the designated registration period, at the beginning of every semester, regardless of visa status. Students who are unable to register on time due to special reasons must submit a formal paper application to ISO at least one week before, otherwise he/she will be regarded as quitting from BNU automatically. Documents required for registration:
1) Valid passport
2) Signed original copy of Admission Notice
3) JW202/201 Visa Application for Study in China
4) Original copy of Temporary Residence Form
5) 2 passport photo (white background, student ID written at the back)
6) Tuition fees (to be paid with Union Pay logo Chinese debit card)
7) Visa fees (you are advised to prepare1000RMB in cash, as fees differ according to the type of visa)
8) Original copy of Overseas Insurance Certificate
9) Original copy of Physical Examination Report:
For students holding X1 Visa who has already done their physical examination, you are required to produce all documents for verification, which includes: Foreigner Physical Examination Form, AIDS, Syphilis, ECG and X-Ray test results. 60RMB (in cash) for verification of report.
Registration Procedure:
Tuition Fees (Unit:RMB/person)
Tuition Fees guide
Chinese-taught programs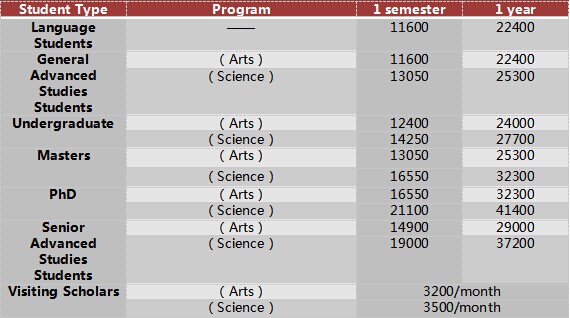 Note: Refer to faculty guide for exact tuition fees
English-taught programs

Tuition fees for MTCSOL:32500 RMB/year/person
Tuition fees for English Taught Credit Courses:1800 RMB/credit
Paying tuition fees
Only debit cards issued in China with Union Pay logo could be used to pay tuition fees. Cash and foreign debit/credit cards are not accepted.
※The amount of tuition fees paid determins the length of visa. Eg. 1 academic year of tuition fees would give you 1 year of visa
※Textbook fees are not included in tuition fees
Opening Ceremony
Opening ceremony for international students will be held on February 26th at 9am. Please arrive latest by 8.50am. Location of the opening ceremony will be notified during registration.
Academic Calendar
※Note: Students who are not from the College of Chinese Language and Culture, please contact your department for information about final exams.